PAGE UNDER CONSTRUCTION – Details are accurate, but pictures to come
Have you seen a You Can Ride 2 bike and thought "Wow, that's exactly what we need"? While we cannot sell you a bike from our fleet, we can modify a bike you own by installing adaptations specific to your needs.
Current prices can be viewed on our flyer here. Prices are subject to change without notice. See below for details on the parts.
---
Terms of Service
All modifications must be arranged by appointment with info@youcanride2.ca. Please include, at minimum, pictures of your bike from multiple angles (especially showing the parts you'd like modified) and include the size of the wheels (written on the side of the tire, this will look something like "24 x 1.95"), as well as the sort of modifications you are interested in purchasing. You Can Ride 2 reserves the right to decline to modify, for instance, if your bike is not compatible with the desired modifications. We cannot modify BMX bikes at this time.
Modifications can be purchased for self-install, or installed by professionals for a slight fee. We warranty our work when we install a modification.
We cannot do house calls, pick-ups, or deliveries – you must bring your own bike to our workshop and pick it up when it's done. (Simpler modifications can be done while-you-wait, but please allow some time to complete more complex ones.) Because of this, we can only serve families within the Edmonton area at this time.
Custom work beyond our normal offerings is possible. Feel free to ask info@youcanride2.ca if a particular modification would work for you. If we can't do it, we might know someone who can.
All modifications are subject to availability. We do allow returns or exchanges (except on training wheels), but only the uninstalled value of the parts will be credited on a return or an exchange.
Riding all modified bikes is done at your own risk. We reserve the right to refuse modifications we consider to be unsafe.
---
The Right Size of Bike
Before requesting modifications, we strongly recommend you make sure the bike you have is the right size for its rider. This is especially true for riders who are still growing (i.e. children). Here's some basic suggestions for sizing a bike. These are only starting suggestions, and they concentrate on childrens' bikes.
A bicycle's frame size is the length of the seat tube – the part of the frame that runs from the pedals to the seat post; it's usually listed on a sticker on the bike as well. A bicycle's wheel size is written on the side of the tires, and will look something like "24 x 2.0"; the first number is the important one here, as it's the diameter of the wheel in inches. Sizing a bike for an adult rider is more involved than this; consult your bike shop or an experienced rider for help.
| | | | |
| --- | --- | --- | --- |
| Rider's Age | Rider's height | Bike Frame Size | Bike Wheel Size |
| 2-4 | 2'10" – 3′-4″ | 8″ – 10″ | 12″ – 14″ |
| 4-7 | 3′ – 4′ | 10″ – 12″ | 16″ |
| 7-10 | 3'6″ – 4'8″ | 12″ – 13″ | 20″ |
| 10-adult | 4′ – 5'6″ | 14″ – 16″ | 24″ |
| 12-adult | 5'6″ – 5'10" | 17″ – 18″ | 26″ |
---
Modifications
Current prices are available here. Pictures of each modification to come.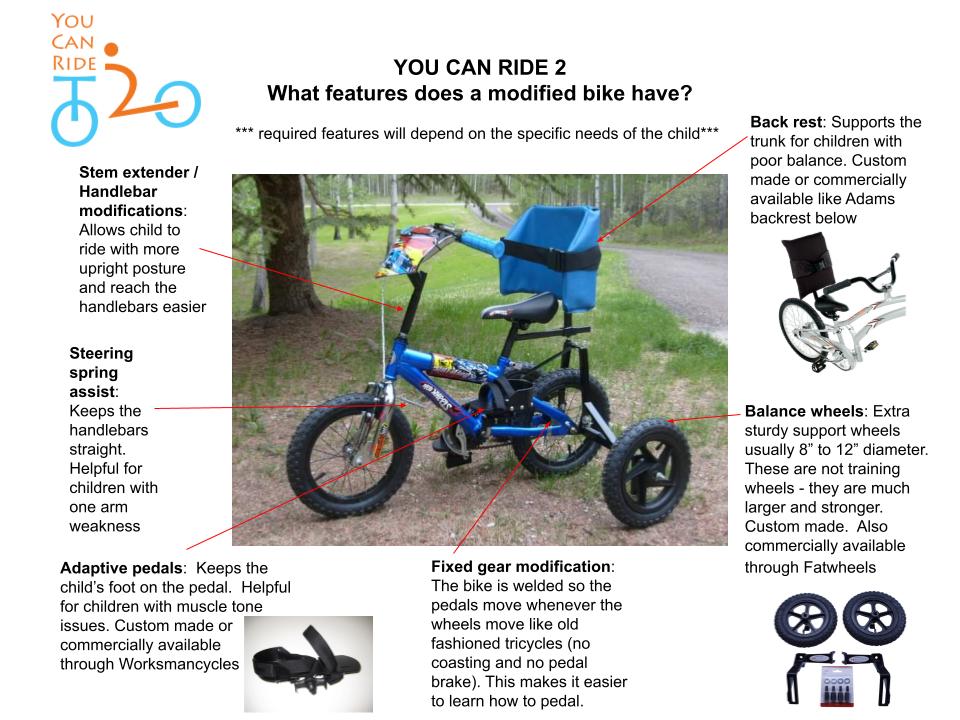 Balance Wheels
Balance wheels are heavy-duty support wheels directly attached to the bicycle frame. They are designed to keep a bike upright (though they can still tip on uneven terrain or at high speeds). These are not training wheels. If your goal is to ride a bike but you feel that a conventional two-wheeler is not an option for your needs, balance wheels might be the way to go.
Balance wheels make a bike significantly bigger and heavier, which might impact your storage considerations, particularly if you live in an apartment or condo without a garage, or you wish to transport a bike by car.
Fat Wheels balance wheels – Sturdy steel wheels that resemble heavy-duty training wheels, but provide significantly more support. While it's still possible to tip a bike with Fat Wheels, these bikes are also easier to transport, and have few problems going through conventional doors. Available in two sizes: small (up to 20″ wheel) and large (24-26″ wheel).
Specialty Designs balance wheels – Heavy duty steel frames hold a set of wide wheels to the back of your bike. These wheels are sturdy and reliable, and in use on most of our own adaptive bike fleet. However, transporting a bike with these wheels in a small car can be very difficult, particularly for larger wheels: these balance wheels must be at least as wide as the bike's seat is tall. Supplies are very limited. Might require the bike to give up its ability to shift gears, if any.
Training Wheels
Training wheels are light-duty wheels designed to provide feedback to a rider about when the bike is about to tip. A set of training wheels is not intended to keep a bike upright, and, in our opinion, does not teach a rider how to balance. Instead, they are intended to facilitate participation in cycling for kids who need a bit of extra support or encouragement to go riding. We can only recommend training wheels for cases where the rider eventually plans on removing them.
Training wheel designs vary in durability and may not be compatible with all bikes or riders. Our options tend towards the sturdy, but are not as strong as a set of balance wheels.
All training wheel sales are final. Our training wheel selection will be updated shortly.
Pedals
Our most popular modifications. If requesting a pedal modification, please include pictures of your pedals, since not every modification works with every style of pedals.
We do not recommend pedal modifications on bikes without some form of balance support. As most of our pedals strap to the foot, they also prevent the rider from putting a foot down to regain balance at low speeds. Tricycles, adult trikes, or bikes fitted with balance wheels (but not training wheels) are good candidates for pedal modifications.
Trent Pedals – Named after the therapist who designed them, these are conventional bike pedals fitted with a toe cage and Velcro heel retainer straps. These pedals are great at helping keep the rider's feet on the pedals, and are lightweight and easy to use.
Dirk Pedals – Named after the mechanic who invented them, these are heavier wood or plastic footplates with straps and a sturdy heel cup. More supportive than the Trent design, Dirk pedals can also accommodate many types of orthotics, including shoe lifts and most types of AFO. If requesting a Dirk pedal, please include the length (heel to toe) and width (across the joints between the toes and the foot) of the footplate.
AFO Pedals – An extension of the Dirk pedal, these foot plates have a built-in ankle-foot orthesis extending further up the calf, providing quite a lot more support for leg posture. If requesting an AFO pedal, we need to know not only the length and width of the footplate, but also the measurement of the leg from the heel to the back of the knee.
Counterweights – Dirk pedals or AFO pedals are top-heavy and have a tendency to pivot around and rub on the ground when the bike is being moved without a rider. This can potentially damage your pedal modifications. To help preserve their life, we offer counterweights that keep the pedals positioned upright. However, not every bike has enough clearance to accommodate counterweights.
Other pedal modifications – Toe strings can aid in keeping the feet level with the ground (i.e. no hyperextension), while custom cages or mount angles can accommodate different foot positions. Chat with us and we'll let you know what's possible! While we're pleased to include simple modifications with other pedal purchases, more complex ones might be covered as "Custom Work" below.
Backrests & Strap Support
A backrest provides security and trunk support for a rider. They might be fitted with straps or harnesses for additional support. Backrests might not be compatible with all bikes or other modifications listed here. Straps and seat belts can only be added to bikes with balance wheels or to tricycles, for safety reasons.
Specialty Designs backrest – These backrests are angled vertically and fit onto a post welded to your bike's seat post (welding is included in the cost). They are easily removable to aid in transporting the bike.
Adams backrest – These lighter-weight backrests have a slight recline, and are fitted directly to the seat post. They are compatible with most, but not all, seat posts and bike styles.
Chest strap – A horizontal chest strap is not a true harness, but is a useful safety retainer. Not available separately, but can be included with purchase of a backrest at no cost.
Seat belt – A bicycle seat belt is designed to aid in hip positioning, and prevents a rider from sliding off a saddle. It's not a safety device like a car's seat belt; it's more like a wheelchair's lap belt. Not available separately, but can be included with purchase of a backrest at no cost.
Other Modifications
Steering & Handlebar Modifications
Centring Spring – Installed behind the front wheel, a centring spring aids in turning the front wheel back to a centred, forward-facing, position. These are not strong enough to override a rider's steering – it's more for if a rider might not keep their hands on the handlebars, or might be at risk of oversteering.
Handlebar Modifications – There's a lot we can do for a rider's handlebars, all of which change the position the rider sits in when controlling the bike. If your concern is posture, let us know and we'll discuss what we can do. Handlebar modifications can also include grip adjustments, stem modifications, and padding.
Propulsion Modifications
Fixed Gear Conversion – Most conventional bicycles are "freewheel" designs, which allow the bike to coast forward without the pedals moving. A fixed-gear bicycle will have the pedals stay in motion as long as the wheels are moving. This is not the same thing as a "coaster brake" (pedalling backwards to stop); it's closer to an old-fashioned tricycle. This is a great option to consider for riders who have difficulty pedaling, or for those who are learning to pedal for the first time. Not recommended for high-speed or long-distance riders. A fixed-gear conversion will involve giving up a bicycle's ability to shift gears (if any).
Control Bar – A bike can be fitted with a pushbar or a pullbar to allow someone other than the rider to help control the bike. A pullbar requires the second person to be in front of the bike, but does allow for steering. A pushbar allows the second person to aid the bike in starting or stopping from behind, but doesn't allow steering. The control bars we use are interchangeable between pullbar or pushbar modes, and detach for easy storage or transport. Some bikes may not be compatible with one mode or the other, or with a control bar at all.
Custom Modifications
Want something done that isn't listed above? We have the ability to do limited fabrication or engineering for custom work, and can use our contacts to acquire other modifications not listed here. Ask info@youcanride2.ca for more information!
Custom modifications are priced by the hour (including both coordinator and mechanic time spent completing this work). The costs of materials needed to complete custom jobs are added to the final cost. We will provide a free quote estimate to you before we commence on any custom work.
Bike Wholesale
You Can Ride 2 is a licensed dealer for several different supportive bikes and trikes. Contact info@youcanride2.ca to inquire about orders.
Service Plans
Service Warranty – Details to come.
Adaptive Bike Service & Tune-ups – Details to come.
Fitting Services & Riding Assessment – Details to come.