Reducing physical and financial barriers to riding a bike
---
Adaptive bikes can be so expensive; that's why we started the Borrow a Bike program! We make adaptive biking more affordable by loaning out adaptive bikes from our fleet of over 200 so that all children can enjoy the freedom of movement!
---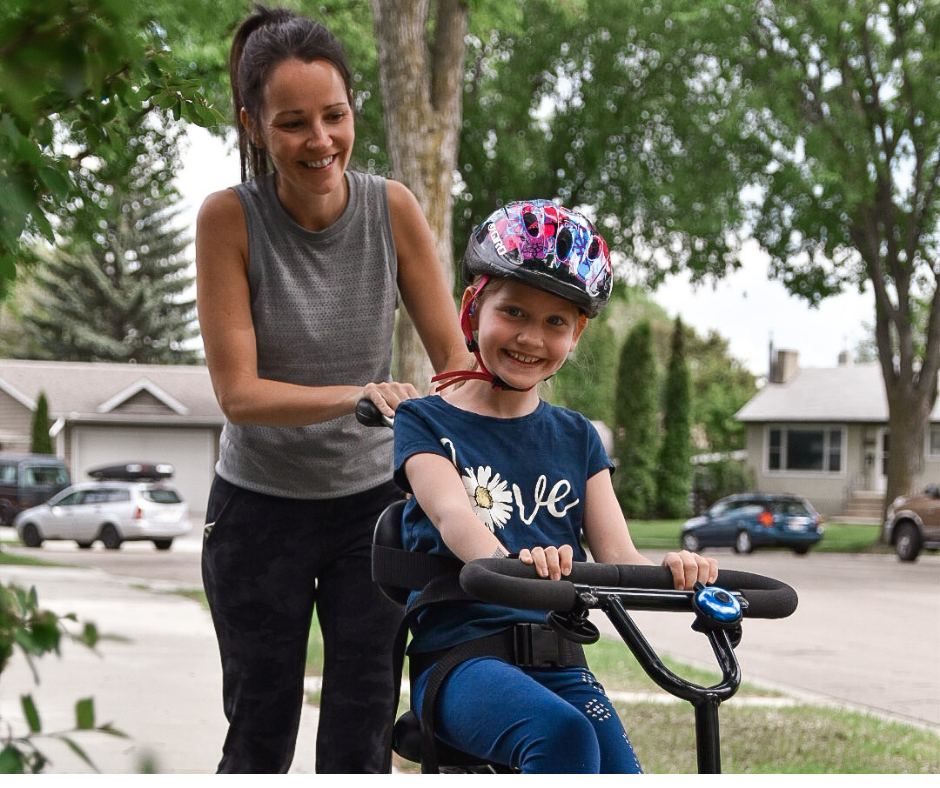 See if you're a good fit:
Do you…
Live within 200km of Edmonton?
Have a child between the ages of 3 and 20 who has a diagnosis that makes riding a standard bicycle difficult?*
Have a dry and secure place to store the bike?
See or work with a physical or occupational therapist?**
If you answered yes to the four questions above, you're eligible to participate in the program!
*Children who can ride a bicycle with training wheels and no other modifications are not eligible to borrow a bike, but can still participate in our Learn to Ride program.
** Please email info@youcanride2.ca if you do not have a therapist working with your child.
---
The most affordable adaptive bikes in Edmonton
Seasonal Rentals: $300
Rent from March or April until Return Day in October.
Participate for as little as $25 (as $275 of these fees are refundable or tax-deductible)!
Annual Rentals: $500
Rent from October until the following September. You must transfer into this directly after a Seasonal rental. Annual rentals can be renewed.
Participate for as little as $50 (as $450 of these fees are refundable or tax-deductible)!
Up to 90% of your costs are refundable or tax deductible!
$100 refunded for returning your bike in good condition on Return Day
Up to $150 refunded for volunteering (dependent on rental term)
Up to $200 refunded for fundraising (dependent on rental term)
---
What to expect:
The chance to try out different styles of bikes
A bike that is fit to your child's specific needs
Opportunities to connect with the You Can Ride 2 community!
Registration for the Borrow a Bike Program opens on Sunday, January 8nd, 2023 at 12pm (noon)!
Register Here for Borrow a Bike!
Please note: Space is limited. Depending on when you register, we may place your registration on a waiting list and invite you to appointments only if we have bikes available.
---
"This program is amazing. You have given our son a chance to do (normal) things that other kids his age have been doing for years."


You Can Ride 2 Parent
If you have questions about the Borrow a Bike Program, please see our Frequently Asked Questions page or email us at info@youcanride2.ca.