We believe that every child should be given the opportunity to ride a bike
---
Who we are
We're a non-profit organization that offers children with disabilities the opportunity to find joy and freedom through movement by reducing barriers to riding a bike.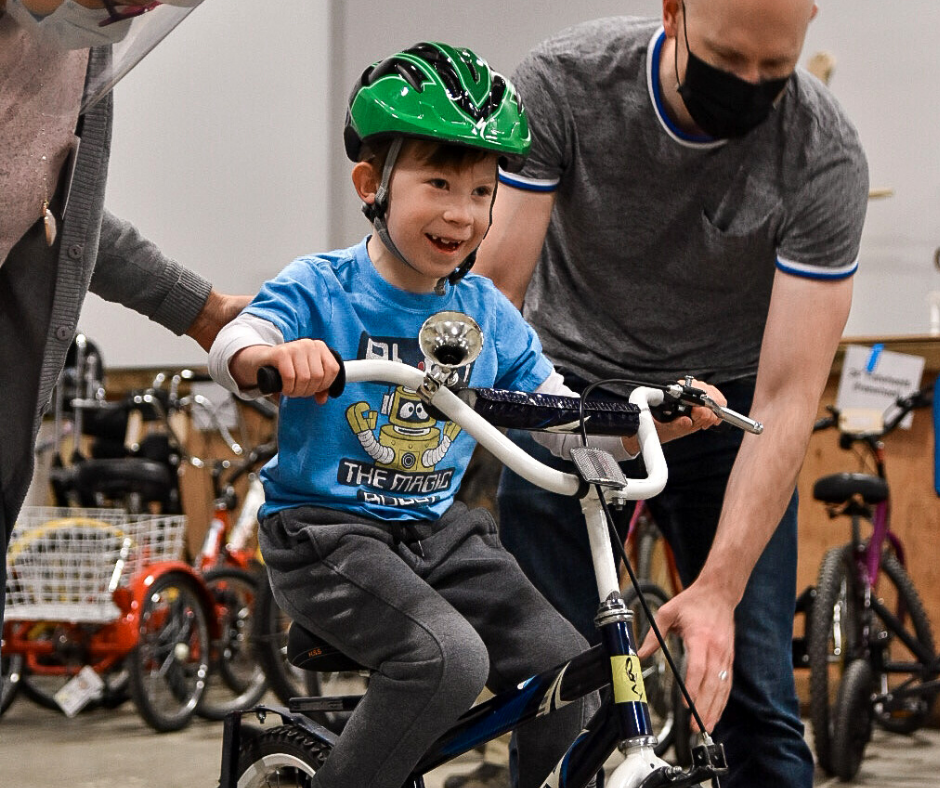 ---
Our Story
You Can Ride 2 was started in 2003 by our Strategic Director, Janine Halayko, after a 9-year-old girl she was working with as a physiotherapist asked if she was the only child in grade 3 that could not yet ride a bike. This inspired Janine to create a cycling group that would teach children with coordination challenges how to ride a bike.
Our organization has grown and evolved a lot in the past 18 years; We now operate out of Goodwill's Impact Centre and have expanded our programming to help even more children experience the joy of riding a bike!
You can read about You Can Ride 2's full history here.
---
How we do it
In order to help reduce barriers to riding a bike and make it more accessible to children of all abilities, we offer three main programs:
Borrow a Bike
This program allows children with a diagnosis that makes riding a standard bicycle difficult, to borrow an adaptive bicycle from our pool of over 200 adaptive bikes!
Learn more about the Borrow a Bike Program here.
Learn to Ride
This program is a 6-week evidence-based cycling course designed to teach children with coordination challenges, or other special needs, how to ride a two-wheeled bicycle without training wheels.
Learn more about the Learn to Ride Program here.
Modify
Through this program, you can bring your own bike to be modified by our mechanics who will install adaptations specific to your needs.
Learn more about the Modify Program here.
---
"The depth of knowledge and care shown by the staff and volunteers in the program ensure that we're providing our daughter with the best opportunities and equipment as she grows and her abilities change."

You Can Ride 2 Parent